Ayurvedic PCD Franchise in Kashmir – Ayurvedic and herbal products have an ever-growing demand in the global market. Pax Vedic Science is a leading brand in manufacturing, distributing, and exporting highly effective and safe ayurvedic medicines. The company is ISO 9001:2008, GMP, and FDA certified. We have an extensive network of pharma franchises, distributors, and chemists in the PAN India region. Our company has a broad range of proprietary and classical range of products covering different therapeutic segments. Pax Vedic is equally devoted to research and development activities required to formulate medicines having high efficacy and fewer side effects. The company is the best Ayurvedic PCD Pharma Company, offering its Ayurvedic PCD Franchise in Kashmir.
If you are a highly skilled distributor or an experienced pharma professional looking for Ayurvedic PCD Franchise opportunities, Pax Vedic Science is the ideal partner for you. We believe in the mutual growth of both parties involved and enormous customer satisfaction. Besides, franchise opportunities, we offer dozens of benefits to our associates. To name a few, we give exclusive monopoly rights, free promotional assistance, and a wide range of ayurvedic products to choose from. Our ayurvedic and herbal products come in different categories of; ointments, syrups, tablets, juice, and drops. We are backed up by our reliable customer base, having immense faith in the quality of our products.
If you are interested in starting your Ayurvedic PCD Franchise in Kashmir, give us a call at +91 9216325808, +91 9216325807 or email your query to paxvedicscience@gmail.com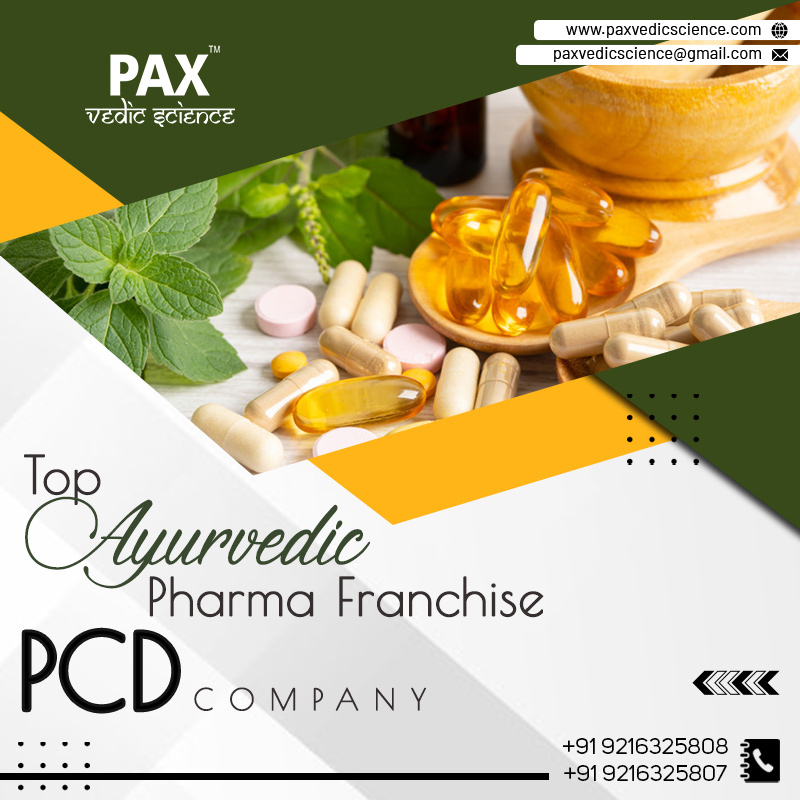 Scope of Ayurvedic PCD Franchise in Kashmir
Kashmir is the northernmost region of India and a part of the Jammu and Kashmir union territory. The place is covered with lofty mountain ranges and picturesque valleys. Each year millions of tourists arrive in Kashmir to witness its mesmerizing beauty. There is a huge demand for highly effective ayurvedic and herbal medicines in Kashmir. With the right business strategies, an ayurvedic PCD Franchise can flourish and cash in huge profits.
With high demand and low availability of quality ayurvedic products, Kashmir generates a lot of scope for an ayurvedic pharma franchise. Kashmir has all the resources needed for the establishment of a pharma franchise including infrastructural facilities. The lack of industries and a large consumer base creates exponential business growth potential. Investing in Kashmir for an ayurvedic PCD Franchise guarantees a high return on low investment.
Vacant locations in Kashmir for setting up Ayurvedic PCD Franchise in Kashmir
There are plenty of locations that offer maximum exposure to customers. The areas are well-connected that have space for infrastructural development. They are densely populated areas with a great scope of attracting more and more customers. The Pax Vedic Science has connections all over the country and makes on-time deliveries even to the farthest point. The ideal locations are given following:
Srinagar
Pahalgam
Anantnag
Pulwama
Bhaderwah
Kupwara
Doda
Ganderbal
Diverse Portfolio of a broad range of classical Ayurvedic products
Our company follows an ethical and professional business approach to ensure that all our customers get premium ayurvedic and herbal products. We provide our associates with the multi-level markings of pharma molecules made under our banner to increase their sales. The ayurvedic products in Pax Vedic Science are manufactured at GMP certified facility, after following all industrial and international industrial standards. The ayurvedic products of our company cover twelve fortes, including cardiovascular, gastrointestinal, analgesics, haematinics, against infective and anti-microbial, respiratory specialists, insect diabetics, and immunological. The categories of products available at Pax Vedic Science are:
CAPSULE
CHURANS
DROPS
GEL
JUICE
OILS
OINTMENT
SYRUPS
TABLETS
What makes us the best Ayurvedic PCD Pharma Company in India?
The mission of our company is to discover, develop, and successfully market pharmaceutical products to prevent, diagnose, alleviate, and cure diseases. Following this principle, our company has come a long way in formulating ayurvedic medicines that are affordable and accessible to satisfy urgent medical needs. We offer growing, stable, profitable, and lifetime opportunities to Sales and marketing professionals as PCD and franchise operators all over India for vacant areas. We are an ISO 9001:2008, FSSAI, and GMP-certified company having years of experience in manufacturing and distributing highly effective ayurvedic medicines. The key features that make us the best ayurvedic PCD Pharma company in Kashmir and all over India are given following:
Team of qualified ayurvedic doctors, brilliant managers, specialists in health products, qualified pharmaceuticals, quality control engineers, and brand awareness service personnel.
Highly effective Ayurvedic products, targeting all major health concerns.
An extensive network of distributors and pharma franchises.
Attractive publicity and marketing tools like visual aids, notepads, and diaries.
Order is promptly delivered within the stipulated time.
No burden of completing targets.
Accreditations from ISO, FSSAI, and GMP.
Robust logistics channels.
Collaboration in the production of GMP & GLP.
Years of Experience.
Large storage areas
DCGI's state-of-the-art manufacturing collaboration approved a large range of products.
To avail of our services and enjoy the numerous benefits that come with our partnership, contact the information below:
Contact Details
Name:  Pax Vedic Science
Address: SCO-177, Top Floor, Sector 38-C, Chandigarh, 160036
Phone: +91 9216325808, +91 9216325807
Email – paxvedicscience@gmail.com