Ayurvedic PCD Franchise in Madhya Pradesh – Ayurveda is the holistic approach to bringing mind, body, and, spirit in harmony. Of late, Ayurvedic and herbal products have amassed a huge global market. However, finding authentic and high-quality ayurvedic, herbal products is still difficult in the crowd of millions of ayurvedic pharmaceutical companies. Pax Vedic Science has emerged as a leading name among thousands of ayurvedic companies established in and out of India. We are certified by standard authorities of ISO 9001:2008, GMP, and, FSSAI. We manufacture a broad range of proprietary and classical range of products in different forms tablets, churans, ointments, syrups, and drops. Pax Vedic Science has cemented a strong position in the pharmaceutical market and offers services of Ayurvedic PCD Pharma Franchise and contract manufacturing services. To expand the reach and availability of our classical range of products we are offering a golden business opportunity of starting an Ayurvedic PCD Franchise in Madhya Pradesh.
We follow an ethical and professional business approach in all our services. Our company is looking to partner with highly skilled distributors and experienced pharma professionals for starting an Ayurvedic PCD Franchise in Madhya Pradesh. Our mission is to discover, develop, and successfully market pharmaceutical products to prevent, diagnose, alleviate, and cure diseases. We have a dense network of distributors, chemists, and medical representatives spread across the PAN India region.
If you wish to become a part of this dense network and join forces with Pax Vedic Science, reach us at +91 9216325808, +91 9216325807, or drop your query at paxvedicscience@gmail.com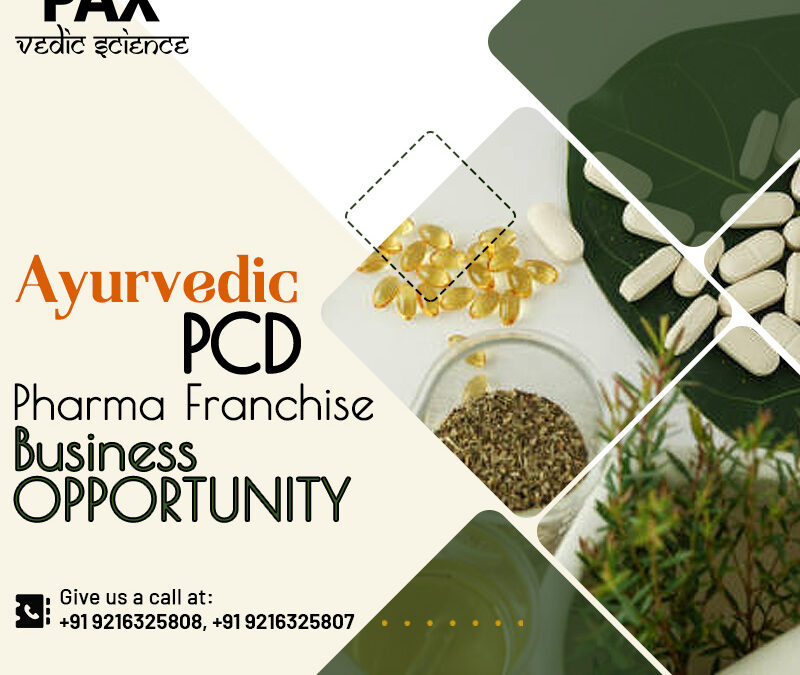 Madhya Pradesh; the Hub of Ayurvedic PCD Franchise Opportunities
Madhya Pradesh, one of the largest states in the country is popular for its rich culture and heritage. The state is adjoined by five other states making it a well-connected area. The ancient landmarks of Hinduism and Buddhism bring millions of tourists each year to witness the magnificent culture of the state. In recent years Madhya Pradesh has seen tremendous industrial and infrastructural development. There is substantial demand for high-quality and safe ayurvedic products in the state.
Madhya Pradesh has abundant resources and vacant infrastructural facilities. All these factors when combined make Madhya Pradesh an ideal place for starting an Ayurvedic PCD Franchise.
Ideal Locations in Madhya Pradesh for Ayurvedic PCD Franchise
Madhya Pradesh has a vast landmass comprising 50+ plus districts. All the districts have a business-friendly environment and a large consumer base. Browse through the list below and select the location most ideal for you:
Balaghat
Alirajpur
Anuppur
Ashoknagar
Agar Malwa
Chhatarpur
Barwani
Bhind
Bhopal
Betul
Datia
Dindori
Indore
Burhanpur
Mandsaur
Morena
Chhindwara
Damoh
Khandwa
Ujjain
Dewas
Dhar
Shivpuri
Sidhi
Guna
Gwalior
Harda
Hoshangabad
Khargone
Mandla
Jabalpur
Jhabua
Katni
Seoni
Shahdol
Shajapur
Sheopur
Singrauli
Tikamgarh
Umaria
Vidisha
Classical Range of Ayurvedic and Herbal Products
Pax Vedic Science has a team of trained scientists and professionals, who formulate a range of molecules targeting many health concerns. The formulations are spread across twelve fortes, including cardiovascular, gastrointestinal, analgesics, and haematinics, against infective and anti-microbial, respiratory specialists, insect diabetics, and immunological. The different categories of products offered by our company are given below:
CAPSULE
CHURANS
DROPS
GEL
JUICE
OILS
OINTMENT
SYRUPS
TABLETS
Benefits of Associating with Pax Vedic Science
Pax Vedic Science ushered in its journey 16 years back. Now, our company has made a reputable position in the ayurvedic pharmaceutical market. Currently, we are manufacturing 350+ products in different therapeutic segments. We consider Pax Vedic Science a healthcare solution provider committed to developing, manufacturing, and distributing premium ayurvedic and herbal medicines. We stringently follow all industrial and international standards, to ensure that our products match global quality standards. Our manufacturing unit is spread over a 1.00 lakh sq. unit area, divided into 8 specialty divisions. Each division carries out a specific functionality related to administration, manufacturing, or quality control. We have highly advanced machinery to optimize raw materials into highly effective herbal products. Over the years we have become a preferable choice among ayurvedic PCD Pharma Franchise owners. Some key benefits of associating with Pax Vedic Science are:
Unique Monopoly Rights
ISO, GMP & FSSAI certifications
Special division for Quality Control
An extensive network of pharma franchises and distributors
On-time Doorstep Delivery
Provide appealing packaging
Free Promotional assistance
An ethical and professional business approach
Follow Hi-Tech Global International Standards
Highly advanced machinery
Affordable and accessible medication
Highly efficient R&D activities
With these benefits, it becomes extremely easy to start your ayurvedic pharma franchise in Madhya Pradesh. Ayurvedic PCD Franchise is a lucrative business opportunity with its low investment requirements. When operated with a strategic business approach, you can cash in huge profits in no time. Rush in to get your Ayurvedic PCD Pharma franchise. Reach us through the information given below:
Contact Details
Name:  Pax Vedic Science
Address: SCO-177, Top Floor, Sector 38-C, Chandigarh, 160036
Phone: +91 9216325808, +91 9216325807
Email – paxvedicscience@gmail.com