5 Best Ayurvedic Medicines for Hormonal Imbalance in Females – Ayurveda and it traditions have been utilized for many years to treat a variety of illnesses and health issues. It is one of the oldest and purest types of herbal and plant-based medicinal practices. Ayurveda is used for a variety of things and to treat various issues. A person's growth may be impeded by a hormone imbalance, which can be quite uncomfortable. To balance hormone levels in females, various ayurvedic medicines have been employed, and they have proven to be extremely effective for many. Ayurvedic medicines can also balance bodily functioning and heal endocrine system issues. Therefore in this blog, we are going to cover the Top 5 Best Ayurvedic Medicines for Hormonal Imbalance in Females.
Top 5 Best Ayurvedic Medicines for Hormonal Imbalance in Females
Most women battle throughout their lives to maintain a healthy balance of their hormones, whether it is to prevent PMS, promote harmony during perimenopause and beyond, or even ease the emotional strain of adolescence.
But did you know that in recent years, environmental contaminants, chemicals that disrupt hormones, and the increased stress of contemporary life have made this job significantly more difficult?
Fortunately, the problem can now be solved with the use of some great ayurvedic medicines. So, without further ado let's look at the 5 Best Ayurvedic Medicines for Hormonal Imbalance in Females.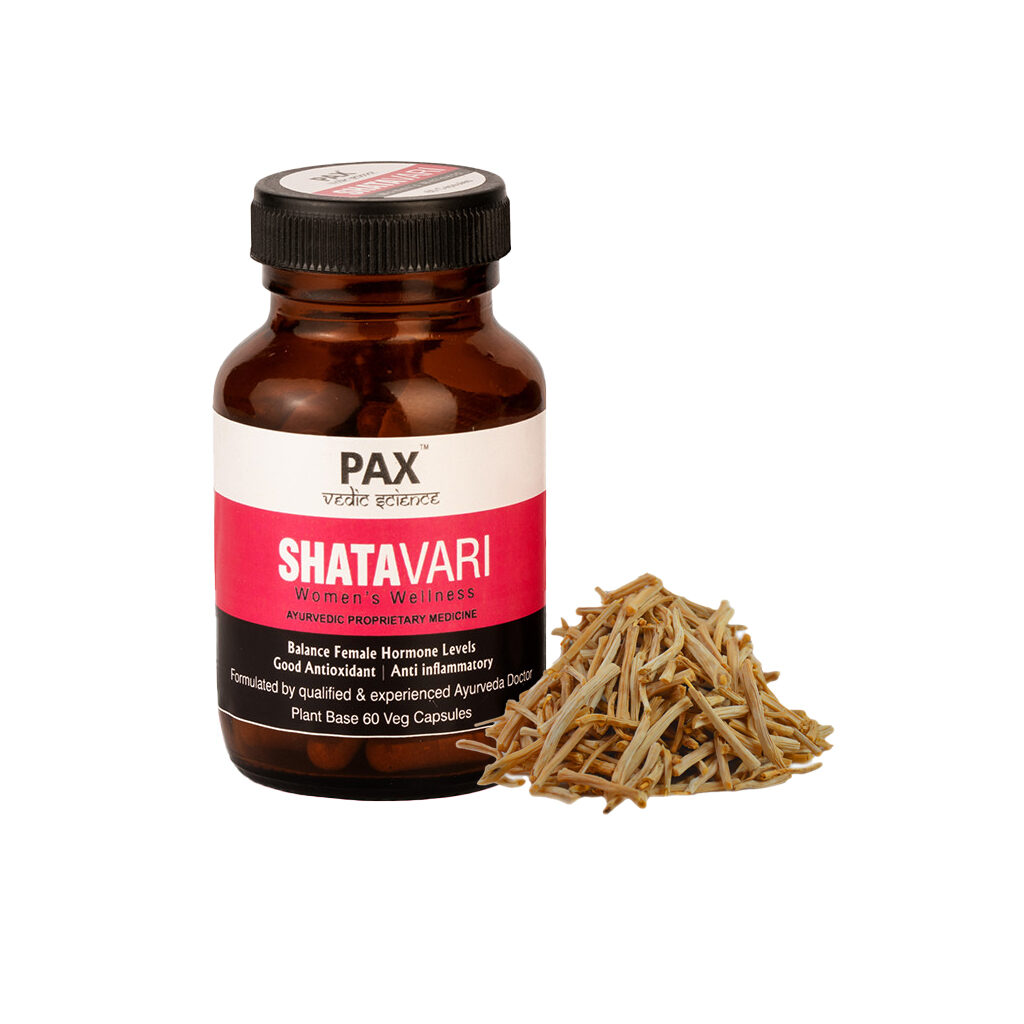 The ayurvedic product that tops our list of Top 5 Best Ayurvedic Medicine for Hormonal Imbalance in Females is Shatavari Women's Wellness for PAX Vedic Science. The intake of these capsules helps women to balance their female hormone levels. The ayurvedic product is a great antioxidant and carries anti-inflammatory properties. The ayurvedic formation is made of 100% natural Shatavari extract and is used greatly to help lactating mothers with the production of healthy milk. The medicine is widely known to promote the overall health and wellness of women's bodies by performing several functions such as balancing hormones, improving digestion, purifying blood, regulating periods, etc. The intake of these ayurvedic capsules also help enhances adrenal gland performance, hence promoting immunological response, immune function, sleep, and vital hormones.
Maharishi Ayurveda Restone Syrup
The next one on this list of 5 Best Ayurvedic Medicine for Hormonal Imbalance in Females is Maharishi Ayurveda Restone Syrup. This syrup is a well-balanced mixture of Rasayanas and strong herbs that aid in synchronizing periods naturally and regulating hormones. The Ayurvedic syrup can aid with PCOD and PCOS management as well. His potent blend aids in regulating menstrual flow, improves skin health, and naturally energizes the body. The mixture is a strong Rasayana made with priceless, time-honored herbs that are recognized to improve women's health. This Ayurvedic tonic is made entirely of natural herbs and is flavorless and preservative-free. Additionally, it is gluten-free, lactose-free, and sugar-free. The syrup is a 100% herbal mixture and has no negative side effects. Consequently, you can eat for a long time without worrying about any negative consequences.
Hawaiian Herbal Hormone Balance Capsules
This nutritional supplement is called Hawaiian Herbal Hormone Balance Capsule. Hormonal Balance Capsules might be beneficial for effectively and naturally promoting hormonal balance and healthy hormone production in the body. Menopause, menstrual discomfort, premenstrual stress, and fibroid can all be managed with its help.
Insomnia, hot flashes, nocturnal sweats, mood swings, and diminished desire for romantic love can all be treated with the help of this medicine. Each capsule of this medicine contains Flaxseed Oil, Chaste Tree Extract, Red Clover, Milk Thistle, Vitamin E, Black Cohosh, Vitamin B6, Ginger, and Pituitary Whole Substance (Bovine), etc. It also raises levels of luteinizing hormone and encourages pituitary function. To support a healthy loving response and energy levels, it encourages the release of bound testosterone. The efficiency and effectiveness of this ayurvedic product are what make it one of the Best Ayurvedic Medicines for Hormonal Imbalance in Females.
Organic India Essential Female Herbal Supplement
The next top medicine on our list of Best Ayurvedic Medicine for Hormonal Imbalance in Females is Organic India Essential Female Herbal Supplement. The health supplement is a  nourishing tonic that keeps the reproductive system in good shape. This special formulation comprises age-old Ayurvedic herbs to help women through all stages of life by promoting hormonal balance and energy. Shatavari and Guduchi are some of the main ingredients of this health supplement. Shatavari supports fertility and vigor while promoting good hormonal and reproductive function. Guduchi also referred to as "divine nectar," offers further assistance as a revitalizing tonic for the feminine system. Organic India cultivates and harvests its herbs responsibly while paying close attention to sustainability.
Marma Ayurveda Kusum Syrup
Kusum Syrup from Marma Ayurveda offers a comprehensive and broad body of Ayurvedic medicine as a potent tool to create this balance when necessary. Another name for it is "The Angel of Women's Health." Kusum SF Syrup is an Ayurvedic remedy for female hormone imbalance that has been painstakingly created and serves as a potent syrup for women's health. The hormonal imbalance might affect the menstrual cycle. The use of this medication can improve the regularity of the menstrual cycle and aid to restore hormonal balance. Additionally, it can aid in enhancing women's general health. The intake of this syrup can benefit women's general health. The consumption of this syrup may aid in regulating women's menstrual cycles, bringing about more regularity. It can also help lessen the discomfort and suffering experienced during menstruation and can aid in reestablishing women's hormonal equilibrium.
On the Final Note
Female hormone levels are constantly fluctuating. They change daily for a huge variety of reasons, some of which make the ups and downs necessary. However, persistent hormone abnormalities may harm your health. One of several natural approaches to manage such fluctuations in blood hormone levels is by using these ayurvedic medicines. Each of the five ayurvedic medicines covered in this article has the capacity to assist in regulating your hormone levels. Therefore, this was our take on the Top 5 Best Ayurvedic Medicines for Hormonal Imbalance in Females, we hope that the information provided by us was helpful to you and find just the thing you were looking for.