Kidney stones have become a major health concern recently. The rising cases of kidney stones have led to an increased demand for Ayurvedic medicine for kidney stones. While conventional treatments like surgery and medications are still prevalent, an increasing number of people are turning to Ayurvedic medicine as a complementary or standalone approach to treat painful kidney stones. To help you find the right and effective treatment for kidney stones, Pax Vedic Science has prepared a List of the Best Ayurvedic medicines for Kidney stones in India. 
This comprehensive list is prepared after conducting extensive research on the market and various pharma companies. In this List of Best Ayurvedic Medicine for Kidney Stones, you will find a wide array of herbal formulations specifically targeted at dissolving kidney stones or facilitating their passage through the urinary tract. This comprehensive is highly beneficial for those who wish to tackle the root causes of the problem rather than just reducing the symptoms.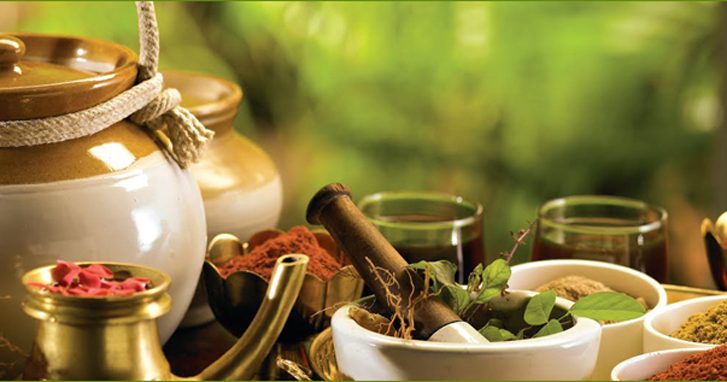 List of Best Ayurvedic Medicine for Kidney Stone 
The rising demand for Ayurvedic medicines for kidney stones can be attributed to the safety, efficacy, and comprehensive healing properties of herbal medicines. The medicines listed here are highly beneficial in kidney stone management and overall kidney health. Go through the list to get your hands on high-quality and efficacious herbal medicine for kidney stones.
Stone Blade is an Ayurvedic Syrup for Kidney Stones. It is enriched with a wide array of herbal ingredients such as Varun Chhal, Punervava, and Yashtimadhu.  All the ingredients aid in breaking down kidney stones and preventing their recurrence, while also supporting the overall well-being of the urinary system. 
The powerful complex of this Ayurvedic product gets easily dissolved into the bloodstream and fights the stone causing messengers to provide instant and long-lasting relief from kidney stones. The herbal syrup is manufactured in a state-of-the-art manufacturing facility while adhering to strict quality measures.
Key Features 
100% Natural Ingredients 
Highly beneficial in managing kidney stones 
Increases the urine flow.
Reduces the chance of regeneration fon kidney stones
Help in relieving kidney stone pain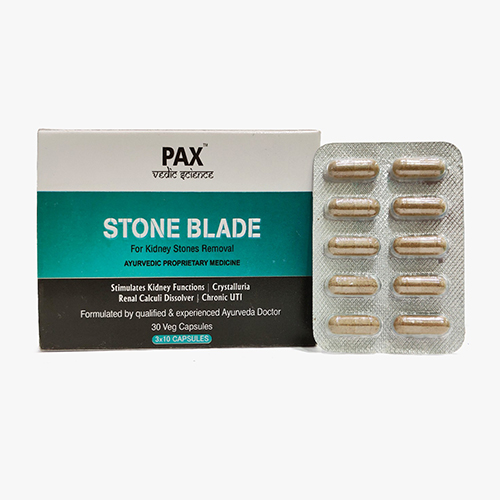 Stone Blade Capsules is an effective herbal remedy for the removal of painful kidney stones. This herbal medicine helps break the renal calculi and prevents the formation of stones. The herbs present in the capsules further reduce the size of the stone and assist in the passing of kidney stones. It is a deserving name in the list of best Ayurvedic Medicines for kidney stones.
The medicine is manufactured using highly advanced machinery in a state-of-the-art manufacturing facility. It is free of any preservatives or harsh chemicals and does not cause side effects like prescription medicines.
Uritone Capsules
A powerful and effective herbal remedy for kidney stones comprising 13 different natural herbs. Each capsule of the medicine is composed of ayurvedic herbs such as Gokhru, Punernava, Prasanbaheda, Pippli, Giloe, Sat Nimbu, Sajji Kshar, Yavkshar, Lajjaloo, Shwet Chandan, Shilapushp, Manjishtha & Hazrul Yashood Bhasma. It targets the root cause of the problem and provides long-term relief from the pain and discomfort. Associated with kidney stones. 
Uritone capsules are highly effective and safe to use. They do not cause any adverse side effects and are generally safe to use. It breaks kidney stones into tiny pieces for easy removal. 
STONICAL-K Syrup
One of the most effective herbal medicine for kidney stones in India. It is infused with many herbal ingredients such as Gokshura, Pashanbhed, and Hajrul Yahood Bhasma, known for their lithotriptic and diuretic properties. These herbs help in breaking down kidney stones into smaller fragments, making it easier for the body to expel them through urine. It is highly affordable and does not cause any major side effects. 
It is a deserving name in the list of Best Ayurvedic medicine for kidney stones in India. It also provides relief from the discomfort and pain associated with kidney stones and improves the overall health of the urinary tract. 
STOBye Capsules
STOBye Capsules are one of the trusted brands in India for high quality and effective results. It is composed of many stone-dissolving herbs that fight kidney stones cause chemical messengers, destroy them, and also restrict them from reappearing again.
It does not cause any major side effects and is entirely safe to use. It is one of the best herbal medicines for kidney stones as it contains herbs with anti-inflammatory properties to alleviate pain and reduce swelling in the kidneys and surrounding tissues. 
Calsecure Syrup
A leading name in the list of best Ayurvedic medicines for kidney stones known for their premium quality and cost-effective price. It is manufactured in a GMP-certified facility and helps the patient to get rid of kidney stones. It provides relief from burning sensations and also cures urinary tract infections. The daily usage of this syrup provides complete kidney protection and also safeguards the kidney from stones. 
Key Benefits 
Eliminate urinary tract issues.
Resolves kidney-related diseases.
Prevents kidney stones from reoccurring.
Free from side effects.
Conclusion 
The popularity of Ayurvedic medicine for kidney stones lies in its holistic approach, which aims to balance the body's energies and address the underlying imbalances contributing to stone formation. The safety and minimal side effects associated with Ayurvedic treatments make them a better choice for people looking for natural and safe health alternatives.