Ayurvedic PCD Franchise in Delhi- A good way to initiate your success in the pharma business is to an involved in the Ayurvedic franchise business. Delhi being the capital of India is among the largest manufacturers and distributors. Herbal drug demand is high and since it is profitable, a boom in Ayurvedic PCD in Delhi is noticed. People are now ready to spend on drugs that offer them reliable results without the hassle of side effects. With a broad spectrum of ayurvedic drug ranges, herbal PCD companies are offering business deals. Pax Vedic Science believes if aspiring the health standards with their basic rules that are formulating, commercializing, and developing medicines
In the business, Pax Vedic Science is one of the leading firms that offers Ayurvedic PCD franchises in Delhi. Our unit is backed by a multi-disciplinary staff that focuses on drug formation with the best raw material. Our product portfolio provides you with a chance to explore the benefits of the PCD Business market. We are among the top lead Ayurvedic pharmaceutical firms that use leakage-proof packaging.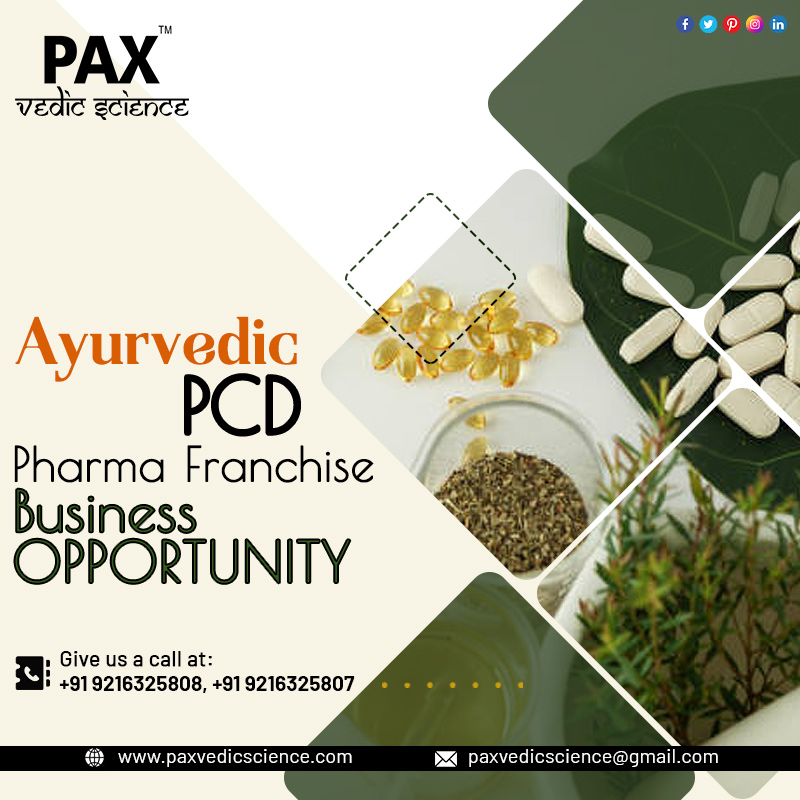 We are a top-notch manufacturer, distributor, and supplier of plant-based pharmaceutical drugs. Now we are planning to expand our roots in the capital city Delhi. We are offering business deals to grab. Get your Ayurvedic PCD Franchise in Delhi in collaboration with Pax Vedice Sciences. The business deals offered are at the lowest prices. You can contact us to know about the availability. We offer the trendiest benefits to all such as monopoly-based franchises, affordable products, etc. Contact us at 91 9216325808 or +91 9216325807 or email at paxvedicscience@gmail.com.
Leading Ayurvedic PCD Franchise in Delhi
Pax Vedic is among the top distributors of Ayurvedic pharmaceutical drugs. We are in the business lead as we promote the enhancing product portfolio that covers each and every health problem. Our products come in various forms such as capsules, injections, sachets, pi9ntment, etc. You can become our official associate and grab deals by investing in the business of Ayurvedic PCD Franchise in Delhi.  Following the holistic approach, our high-quality products are made with the approval of GMP. We work with the herbal safety guidelines and hence our rating in the pharmacy business is five stars.
Pax Vedic Science believes in meeting the company standard. This consists of the manufacturing and production of medicines under the supervision of ISO and WHIO experts too. We are here tin insist that your entrepreneurs have a business of Ayurvedic PCD in Delhi as in the upcoming years this is going to become one of the profitable businesses. Our healthcare products offer and assist with the urgent medical needs of the patients at the most competitive prices. We believe in good health manufacturing steamboats and state of art manufacturing hence we also hold the certification of FSSAI.To look at the best production and manufacturing of products, our Ayurvedic medicine manufacturing plant is spread across 1.00 lakh sq. ft.
Mission, Values, and Vision of Our PCD Franchise 
Pax Vedic Science stands for the multi-visionary policy wherein it believes in promoting a business based on the standards. We focus unequivocally on the technology of Innovation and Research mediums. We look into the future of the healthcare industry hence it is our perspective to offer a range that must include the therapeutic ayurvedic segments such as cardiovascular, gastrointestinal, respiratory specialists, insect diabetics, and immunological.
Pax Vedice Science's Mission
Being the leading Ayurvedic PCD Franchise in Delhi, our mission is to discover, develop, and successfully promote Ayurvedic healthcare products in the market pharmaceutical business so we can primarily prevent healing diseases, diagnose them at the early stage, alleviate, and further cure diseases.
Pax Vedic Science's Vision
On the urge to develop the nation with a contribution of its beneficial healthcare segments, we envision being the leading supplier of ayurvedic products at the global level. Our products are highest in standard, affordable in rates, and premium in packaging.
Pax Vedic Science's Values
To be in the market for years now, we value the approval of health experts, hence the advice of R&D experts is timely considering the manufacturing aspects. Our organization offers a lasting competition in the field.
Introducing Our Segments for Ayurvedic Franchise in Delhi
For any investor, it is important to have a check of the therapeutic segments that are offered by the franchisor. Pax Vedic Science with its listed products offered by Ayurvedic PCD Franchise in Delhi leads in the market. We deal in products with the category of respiratory specialists, gastrointestinal, immunological, haematinics, against infectives and anti-microbials, cardiovascular, insect diabetics, and analgesics.
Ayurvedic Churna
Ayurvedic Single Herb Powders
Ayurvedic Drops
Ayurvedic Paks And Avalehs
Ayurvedic Classical Syrup
Herbal And Ayurvedic Oil
Ayurvedic Patent Capsules
Ayurvedic Balm
Ayurvedic Classical Tablets
Ayurvedic Patent Oil
Herbal Capsules
Herbal And Ayurvedic Syrups
Ayurvedic Patent Tablets
Ayurvedic Ointment
Flourish Your Potential With Pax Vedic's Ayurvedic PCD in Delhi
Discover your interest, involved in the business of Ayurvedic PCD Franchise in Delhi with Pax Vedice Science. Our organic approaches towards the clients and the offering of benefits have made us one of the tremendous franchises in Delhi. We deliver the benefits of franchise business in each and every location of Delihi namely South West Delhi, Shahdara, New DelhiNorth East Delhi, South Delhi, North West Delhi, Southeast Delhi, North Delhi, East Delhi, and West Delhi. 
Here are the best offers by the best Ayurvedic PCD franchise provider.
We provide an assiteove pof promoyting evets.
Our franchise is made in the monopoly rights.
Our Ayurvedic franchise in Delhi is comparatively low in price.
We prefer to deliver the medicines on time as with the clients's availability.
The packaging is attractive, hence the buyer is repetitive.
With our franchise, you can be your own boss.
Conclusion
To know more about Pax Vedic Science's Ayurvedic PCD Franchise in Delhi you can contact our executives. We are happy to help you.
Corporate Address- SCO-177, Top Floor, Sector 38-C, Chandigarh, 160036
Manufacturing Address- Vill. Bhud, NH-21 A, Baddi, Distt. Solan (H.P) 173205
Call- +91 9216325808, +91 9216325807
Email-  paxvedicscience@gmail.com