Ayurvedic PCD Franchise Company in Baddi –  Herbal industry has witnessed tremendous growth with increasing dependence on highly effective Ayurvedic products. To scale up the accessibility of Ayurvedic medicines across the PAN India region, Pax Vedic Science is offering a lucrative business opportunity to start an Ayurvedic PCD Franchise Company in Baddi. Pax Vedic Science is taking ahead the legacy of Ayurveda, scientifically with a broad spectrum of herbal products. Baddi is the hub of the pharmaceutical industry and an excellent location to start an Ayurvedic PCD Franchise. 
Pax Vedic Science upholds the vision of becoming a significant global player in providing high-quality, affordable, and innovative medicine and treatment through ayurvedic formulations. Our ayurvedic formulations have high demand in the market and over the years we have garnered a dense network of pharma franchises across different regions in India. Using the lucrative business opportunity offered by Pax Vedic Science, you can easily start an Ayurvedic PCD Franchise Company in Baddi and cash in huge profits.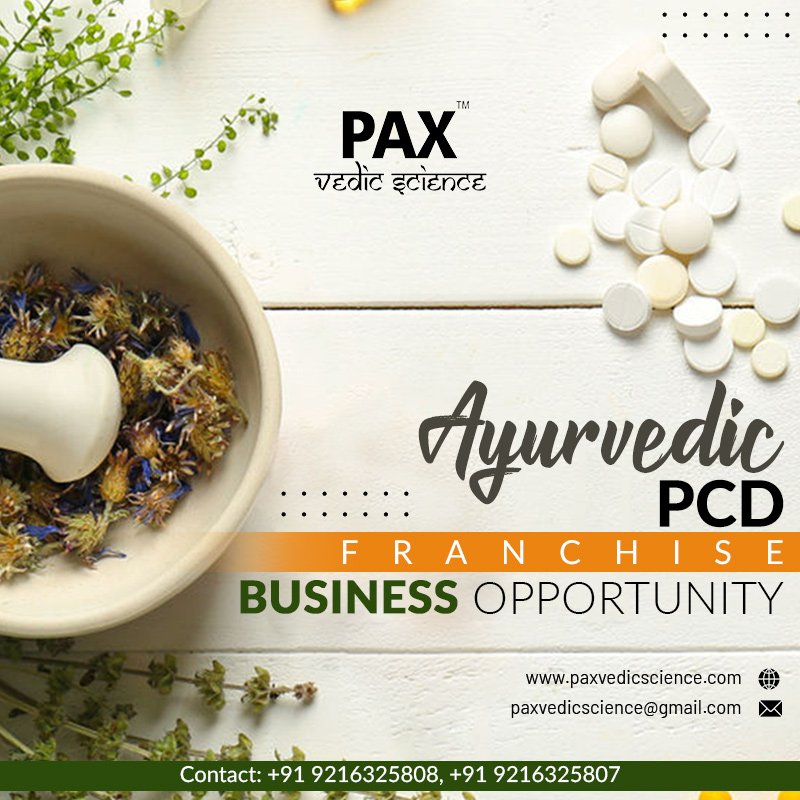 Pax Vedic invites all the distributors and experienced pharma professionals looking to invest in an Ayurvedic PCD Franchise in Baddi. You will get exclusive monopoly rights and dozens of other exciting benefits only at Pax Vedic Science. Give us a call at +91 9216325808, +91 9216325807, or drop an email at paxvedicscience@gmail.com 
Soaring Demand for Ayurvedic PCD Franchise Company in Baddi
Baddi, located in Himachal Pradesh is a well-known pharmaceutical industrial hub in the country. Baddi has witnessed tremendous industrial growth over the past few years and provides a conducive environment for the growth of small business ventures such as PCD Franchise opportunities. With its widespread network of pharmaceutical companies, it provides a supportive environment, skilled manpower, and various other benefits all suitable for starting an Ayurvedic PCD Franchise Company in Baddi. 
The government of Himachal Pradesh offers attractive tax incentives and benefits for the pharmaceutical industry based in Baddi. To benefit from the growing demand for Ayurvedic medicines you can join hands with a successful Ayurvedic PCD Franchise Company in Baddi. The place is well-connected to the other major cities and serves as the gateway for pharmaceutical exports. All these factors favor the growth of pharma franchise businesses. Some key features that make Baddi an ideal place to invest in the Ayurvedic pharma franchise business are mentioned below: 
Well-developed infrastructure
Favorable Tax and other policies
Skilled manpower at an affordable price 
Vast Consumer Base 
Proximity to Major Consumer Markets
Commitment to Regulatory Compliance 
Classical Ayurvedic Products for PCD Franchise Baddi
Pax Vedic Science is dedicated to working in the development of classical Ayurvedic formulations targeting a wide range of therapeutic segments. With our products for the Ayurvedic PCD Franchise Company in Baddi, we have a segregated division for quality assurance and quality control activities. Research and Development are the core drivers of our manufacturing process. Our Ayurvedic formulations target various segments of healthcare such as cardiovascular, gastrointestinal, analgesics, haematinics, against infectives and anti-microbial, respiratory specialists, insect diabetics, and immunological. 
Our team of experts ensures that all the activities in the manufacturing process adhere to global and industrial standards. Our herbal products have high demand in the market and Baddi making us one of the best Ayurvedic PCD Franchise Companies in Baddi. 
Our product portfolio includes the following products: 
Ayurvedic churns
Herbal dose
Ayurvedic tablets
Anti-depressant ayurvedic pills
Immunity booster composition tablets
Ayurvedic capsules
Ayurvedic skincare range
Hormone balancer
Blood purifier
Dental Health
Uric and medicine
Food supplement
Worm treatment
Find Success Ayurvedic PCD Pharma Franchise Business with Pax Vedic Science
Pax Vedic Science has a rich experience in the pharma franchise business and is expanding our presence in India by extending with the Ayurvedic PCD Franchise Company in Baddi. We have adopted an ethical business approach and keep the satisfaction of our customers as our first priority. Our organization is accreditated by ISO, GMP, and WHO. With a commitment to making powerful herbal formulations accessible to the common public, we have amassed a huge network of pharma franchises. 
We assist our pharma franchise associates by providing free marketing and promotional support. Pax Vedic Science has gained recognition as the best Ayurvedic PCD Franchise Company Using our multi-level markings of pharma molecules our associates get the best Ayurvedic products for their pharma franchise business. Some key reasons for choosing Pax Vedic are mentioned below: 
Exclusive Monopoly Rights 
Widespread Manufacturing Unit 
Free promotional tools 
Separate Packaging Sections 
On-time delivery across the PAN India region 
Sturdy and leakage-proof packaging 
State-of-the-art manufacturing unit 
Certification from ISO, GMP, and WHO
Ethical and Professional business approach 
An extensive range of herbal products 
Marketing and Promotional Assistance by Leading Ayurvedic  Franchise Company 
Pax Vedic provides free marketing and promotional assistance to all our pharma franchise associates. These promotional tools allow your budding franchise business to reach a wonder consumer base and cement its position as the Ayurvedic PCD Franchise Company in Baddi. The range of items given under the promotional assistance are:
Notebooks
Visiting cards
Visual aid
Report formats
Pens
Product Catalog
Order pads
Bags
Brouchers
Files and folders
Product cards 
If you are sure about starting an Ayurvedic PCD Franchise Company in Baddi, Pax Vedic is the right choice for you. You can reach us at any time and get information on our PCD and other services. Contact us at the details below to know more. 
Get in touch with us! 
Name – Pax Vedic Science
Address – SCO-177, Top Floor Sector 38-C, Chandigarh,160036
Phone – +91 9216325808, +91 9216325807
Email – paxvedicscience@gmail.com