Ayurvedic Franchise Company in Andhra Pradesh – Ayurvedic medicines are gaining tremendous popularity, due to their low side effects and better healing efficacy. To compensate for this demand, the Ayurvedic pharmacy business is on the rise. Pax Vedic Science has emerged as a prominent name in the pharmacy industry especially dealing with a wide range of ayurvedic medicines. The company is GMP, ISO 9001-2008 & FSSAI, certified. Located at the foothills of the Himalayas in Chandigarh, it is based on a widespread area of 1.00 lakh sq. feet. The infrastructure is well-built to house all the advanced machinery required to support large-scale production. The company has tied up with several pharma franchise owners and has a dense marketing network. The company works with a mission to discover, develop and successfully market healthcare products to prevent, diagnose, alleviate and cure disease.
Pax Vedic Science is expanding its reach by providing an opportunity to open an Ayurvedic Franchise Company in Andhra Pradesh. The company upholds its vision of becoming a leading pharmaceutical company in India by delivering high-quality, affordable, and innovative medicine and treatment. With their skilled manpower and vast network of pharma franchises, they are undoubtedly a bankable PCD pharma franchise company. The company provides its entire support to all its franchise owners and steers their businesses toward success. They have incredible R&D efficiency, consistently working to upgrade their quality to innovate relevant and authentic products.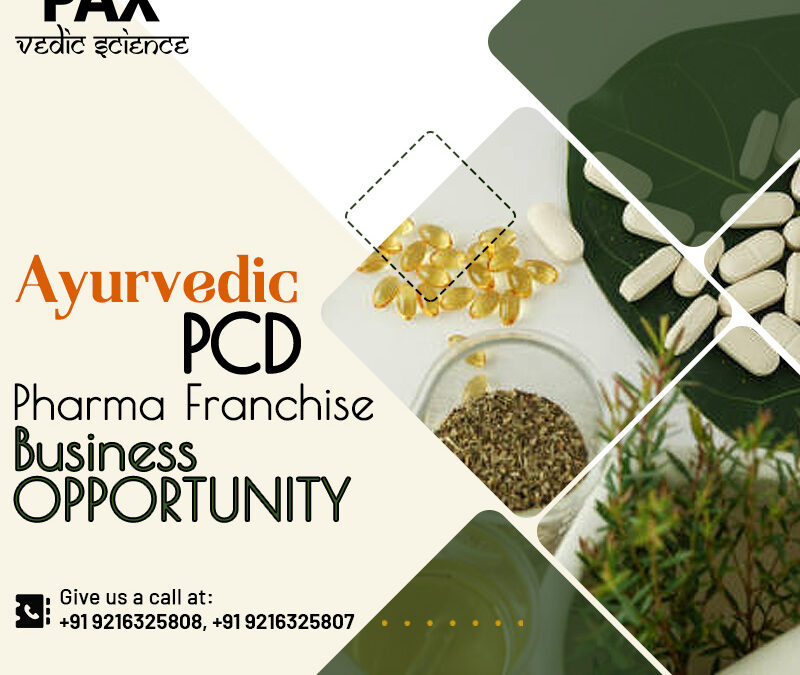 If you want to start an Ayurvedic franchise company in Andhra Pradesh, rush in and call at +91 9216325807, +91 9216325808, or email at paxvedicscience@gmail.com
What makes Pax Vedic Science – The Best?
The growing popularity of ayurvedic medicines has led to a surge of Ayurvedic franchise companies throughout the nation. To beat the competition, partnering with the best PCD pharma company is becoming a key factor in attaining success. Pax Vedic Science has proved its metal in the pharmacy industry with its top-notch medicines and wide range of products. Having an experience of 16 years, the company has a reputed brand image and a stable position in the market. To recognize the company's commendable contribution to providing good quality and affordable medicines, it has been awarded; Udyog Patra Award. Let's take a look at the key factors that make Pax Vedic Science an ideal partner for you to become the best Ayurvedic franchise company:
Accreditation by standard authorities like GMP, WHO & FSSAI.
Offers a broad range of proprietary and classical range of products
High-quality products and on-time delivery all across the nation.
The vast infrastructure of 1.00 lakh sq. feet.
Shared Monopoly rights
Follow all Hi-tech and Global standards
Separate section for raw materials and separate production unit.
8 specialty divisions, concerning different specialties
An extensive network of pharma franchise owners
Full assistance in establishing an Ayurvedic franchise company
Range of Products at Pax Vedic Science
The company has a wide range of products, targeting different types of ailments. These products come under 12 different fortes; gastrointestinal, cardiovascular, analgesics, haematinics, immunological, anti-microbial, and respiratory. The products can be categorized as:
Capsules
Churans
Drops
Gel
Juice
Oils
Ointments
Syrup
Tablets
Why Choose Andhra Pradesh?
Andhra Pradesh is known as "the rice bowl of India." It is an agriculture-dominated region, housing a billion-dollar industry. It shares boundaries with five other states, making it a well-connected region. The state is ranked 8th in the country for its GDP growth and economic stability. The state government has availed many incentives to promote economic activities, especially, small-scale businesses.
Andhra Pradesh has abundant resources and vast land for industrial expansion. Many MNCs like PepsiCo, Cadbury, and Colgate have well-established plants in the state. Different industries like IT, Pharmacy, biotechnology, and auto-mobile have seen exponential growth over the last few years. Being the tenth most populous state, housing over 50 million people, it has tremendous scope in the pharmaceutical sector. All the factors combined make Andhra Pradesh an excellent choice for starting a franchise company.
Ideal locations in Andhra Pradesh for Starting an Ayurvedic Franchise Company
The location has a critical role in deciding the success of any business venture. Connecting with the right consumer base can do wonders and gives credibility to any brand. Target locations where you believe a particular medicine is in more demand help small businesses flourish. To maximize its reach, Pax Vedic Science is offering its franchises at the following place:
Visakhapatnam
Chittoor
Tirupati
Vijaywada
Nellore
Kadapa
Guntur
Eluru
Kurnool
Rajamahendraverma
With high-quality products from Pax Vedic Science and these well-suited places, success is guaranteed.
Contact Details: 
Name:  Pax Vedic Science
Address: SCO-177, Top Floor, Sector 38-C, Chandigarh, 160036
Phone: +91 9216325808, +91 9216325807
Email – paxvedicscience@gmail.com